TAKE A LISTEN! The Reverend Shawn Amos Premieres New Single "Brand New Man"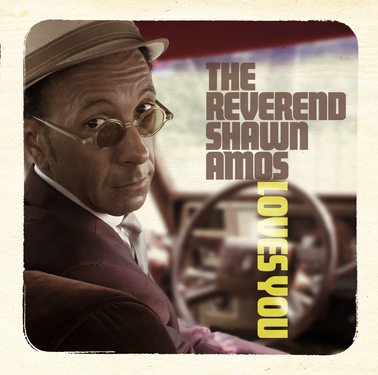 The Reverend Shawn Amos Premieres New Song "Brand New Man"
The Reverend Shawn Amos Loves You
New Album out October 16
Produced by Grammy-Nominee Mindi Abair
On October 16, the certified pure blues singer, harmonica player, songwriter and producer, The Reverend Shawn Amos will continue to spread his secular gospel with a brand new album The Reverend Shawn Amos Loves You. Today he shares "Brand New Man", a gritty R&B rave-up from the album that, in the words of The Reverend, "tears the roof off the sucka."
The Reverend Shawn Amos Loves You features ten bone-deep originals and two well-chosen covers contain the combined exceptional ensemble skills of Chris "Doctor" Roberts (guitars), Brady Blade (drums, percussion), Chris Thomas (bass), Anthony Marinelli, Hassell Teekell (keyboards), Mindi Abair (saxophones, producer), Lewis Smith (trumpet), Forever Jones (backing vocals) and Nick Lane (horn arrangements).
The son of chocolate chip cookie magnate Wally"Famous" Amos and night club singer Shirl-ee May Ellis, Amos is dedicated to continuing, extending and spreading the tradition of the blues with unsurpassed fervor and emotional expression. Born in New York City, raised up on the gritty Sunset Strip in the seventies and preceding his performing career with many successful musical ventures, Amos breaks nearly every cliché with his talent and unstoppable drive. The album marks the producing debut of 2x Grammy nominee, Mindi Abair.
The Reverend Shawn Amos attributes his diverse background to growing up in the colorful Hollywood landscape. Prior to becoming a blues preacher — and ordained minister with the Universal Life Church —Amos was an A&R executive at Rhino Entertainment and vice president of A&R at Shout! Factory, where he produced and recorded multiple Grammy-nominated projects. He produced broadcast, DVD and audio titles for legacy artists ranging from Heart to Quincy Jones, for whom Amos later ran the Listen Up Foundation. Throughout Amos' childhood and adulthood, his mother suffered from schizoaffective disorder and ultimately committed suicide in 2003. The trauma of the event and his subsequent discovery of her early singing career were the inspiration behind his 2005 album release, Thank You Shirl-ee May. Amos has released five albums of music, including his 2014 release, The Reverend Shawn Amos Tells It, a collection of blues originals and covers that received much acclaim from the blues & roots world, and the sophomore blues album The Reverend Shawn Amos Loves You.
WEBLINKS
Website: http://www.shawnamos.com/
Facebook: www.facebook.com/ReverendShawnAmos
Twitter: www.twitter.com/ShawnAmos
VIDEO
Channel: www.youtube.com/user/shawnamos
Mini Doc: www.youtube.com/watch?v=-lyPR4j6h8Y
Single: www.music.yahoo.com/video/bright-lights-big-city-153837811.html
Missing Piece Group