Legendary R&B Group Force MD's on TV One's Unsung! Sept. 9th, 2015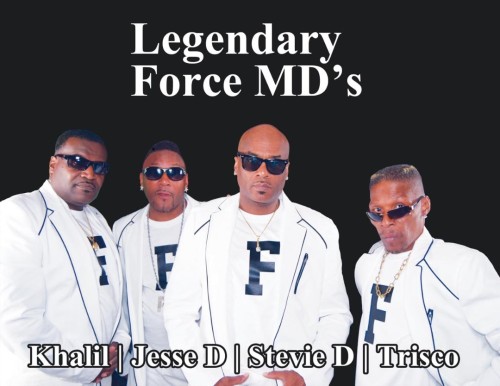 The Legendary Force MD's On TV One's Unsung September 9th 8pm. Enjoy Their Magical Journey
Sept. 1, 2015 – PRLog –Perhaps no group embodies the spirit of classic eighties Hip-Hop R&B soul more than the iconic and unstoppable Force MD's. Anyone who has attended a Force MD's show knows that from the first words of "Tender Love" "Here I lay all alone…" the whole crowd is instantly unified, swaying arm in arm, passionately singing the soundtrack of their lives. The first few bars of timeless classics like "Love is a House", "Tears," or countless other hits can transform any arena into a nostalgic soul celebration in seconds.
"Nobody can make you relive those moments like the Force MD's."– Melissa Morgan
In addition to a surge of new tour dates, and widespread industry buzz about the forthcoming feature length documentary Force MD's Relived, the group's momentum has also been fueled by a slew of recent celebrity endorsements. These range from President Obama's highly publicized acknowledgement that he keeps the Force MD's in rotation on Air Force One, to the growing roster of entertainers who cover Force MD's songs in their show (including Wiz Khalifa, Alicia Keys, Marcia Ambrosius, New Edition, and others). As a result, the group is experiencing a new chapter in a long history of success.
"Somehow the Force MD's have managed to transform incredible adversity into a completely uplifting and overwhelming live show experience."– Skip Dillard
The group is most known for the overwhelming commercial success from the Jimmy Jam and Terry Lewis-penned classic "Tender Love." The song proved to be a huge success, peaking at #10 in the Billboard Hot 100 chart, remaining there for 19 weeks, and helping Jam & Lewis garner a Grammy Award for Producer of the Year. Incredibly, the group would follow this success in 1987 with their first #1 R&B hit "Love is a House." But the Force MD's deep catalog of classic R&B/ Hip-Hop staples including "Tears," "Here I go Again," "Let me Love You," and their continued release of new anthems for all occasions has allowed them to maintain a consistent presence at radio and in the hearts of their fans.
LISTEN to "Tender Love" in our Top 100 R&B Slow Jams by clicking HERE!
The Force MD's live show takes fans beyond the groups original classics and dazzles them with an uplifting soulful tour of the best of the black music experience. With the captivating energy that took the group from the Staten Island Ferry to the top of the charts, the group rolls out spontaneous crowd pleasing renditions of songs from artists such as the Temptations, Four Tops, the Jackson Five, Al green and others.
When the Force MD's fans listen to their music and attend their shows they frequently state that they feel like they are celebrating a story of resilience, and triumph over obstacles and tragedy.The group is a living testimony that empowers fans to face the challenges in their own lives. And the group knows challenges all too well. Tragedy struck the group three times with the passing of three of its members: Charles "Mercury" Nelson suffered a fatal heart attack in 1995; Antoine "T.C.D." Lundy died of Lou Gehrig's disease in 1998; and DJ Dr. Rock died under unknown circumstances. Nevertheless, the groups remaining members have transformed this tragedy into ongoing inspiration that they share generously with their audiences.
As the longest active member of the group, Stevie D is the dynamic thread that connects the group's history, to its present and rapidly evolving future. As a powerful vocalist, pioneering freestyle artist, and electrifying dancer he exemplifies the blend of Hip-Hop and R&B that the group is known for originating. Stevie D and Khalil have been keeping the torch lit to their legacy.Khalil Lundy and TCD Lundy forged their vocal styles working closely together during their youth. Today they have reunited with Trisco and Jessie D to continue that legacy as the embodiment of the distinctive Force MD's sound for over 30 years as industry icons. Tune in on September 9th, 2015 at 8pm on TV One for a up close and personal inside look at the journey that made them legends on the popular docu-series Unsung!