LISTEN TO NEW MUSIC/NEW VOICES! Latoya Songstress Cooper Releases New EP "Eclectic Soul" on June 9th, 2015
by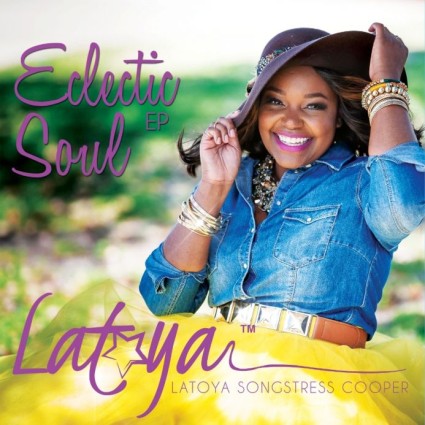 Soul Singer Latoya Songstress Cooper Will Release "Eclectic Soul" June 9th, 2015
TAKE A LISTEN BELOW!
PRLog DALLAS, TX – Latoya Songstress Cooper will release "Eclectic Soul", on Tuesday, June, 9th, 2015 as a digital download on all major music platforms. The bouncy, spirited EP features "Why," Latoya's popular single.
Latoya's voice glides over a blend of smooth, soulful melodies. Her lyrics intertwine effortlessly with Neo-Soul, Folk and Latin influences.
"This project is fresh. It's fun. It's light," says Latoya. "It's empowering and colorful. Those hues are mirrored in the sound of Eclectic Soul."
The mission to empower listeners is reflected in Latoya's songwriting style. "My music is about a determination to live life with purpose and no regrets," she says.
Since her return two years ago to writing and recording music, Latoya has performed for sold-out audiences and alongside international artists.
"When a God-given gift is also a deep-seeded passion—singing, in my case—it's impossible to silence," she explains. "It's wise to simply welcome and embrace it."
Fans and followers can watch the livestream of the "Eclectic Soul" release party on Latoya's website www.LatoyaSongstressCooper.com June 13th at 7:00 pm CST.
ARTIST WEBSITE:
www.LatoyaSongstressCooper.com
SOCIAL MEDIA:
Facebook: www.facebook.com/LatoyaSongstressCooper
Instagram: www.instagram.com/Latoya_Songstress_Cooper
Twitter: @LSongstressC (http://www.twitter.com/LSongstressC)
Soundcloud: www.soundcloud.com/LatoyaSongstressCooper
QUICK FACTS AND HIGHLIGHTS
Genre: Soul
First Single: Why ft. Andre Prehay
Sound: Light, Fun, Energetic, Full of Life
Music Influences: Soul, Folk, Jazz, Reggae
Songwriter(s): Latoya Songstress Cooper
Label: Independent Artist