Saxophonist Jessy J Returns with New CD "My One and Only One" on May 26th, 2015 | WATCH VIDEO!
by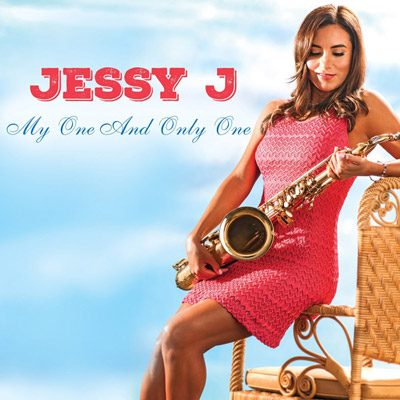 Internationally Acclaimed Saxophonist JESSY J To Release 5th Studio Album On May 26 Via Shanachie Entertainment
Lead Single "The Tango Boy" Features Special Guests Paul Brown and Gregg Karukas
Album Includes Covers of Toni Braxton, Shuggie Otis and "Lovesong" by The Cure
Record Release Tour In June & July With Fall Festival Dates To Follow
Los Angeles, CA: On May 26, Shanachie Entertainment will release the highly-anticipated new album from Internationally renowned saxophonist Jessy J. My One And Only One seamlessly melds Latin Jazz, Soul, Smooth Grooves and Funk with alluring melodies, both musically and vocally.
Written, arranged and produced by Jessy J, My One And Only One is her fifth studio album (and second for Shanachie, who also released 2013's Second Chances). With 10 songs that ebb and flow between the heat of the midday sun and the resplendent glow of a starry-filled night, Only One has the feel of an instant classic, for life's journeys, both in the physical and spiritual worlds.
Dedicated to all of her teachers, past and present, Jessy showcases her inimitable musical ability to set the mood for any occasion, none more so than on the album's rousing lead single "The Tango Boy". From there, she keeps the festive vibes in overdrive with "Paraíso Mágico," a Latin-flavored jam, in which she sings in Spanish and showcases her agility as a gregarious flautist. Paraíso echoes vintage Santana, with its evocative shuffle, and Jethro Tull, with its resolute flute. Elsewhere, she unfurls a sultry daydream on "Una Mas," busts out the funk on "Back To The Basics" and adds mellifluous bi-lingual vocals to "Siempre".
Among the stand-outs on the album are gorgeous arrangements of time-tested classics, "You're Makin' Me High" (written by Toni Braxton & Kenneth "Babyface" Edmunds), "Strawberry Letter 23" (written by Shuggie Otis and made famous by The Brothers Johnson) and the eternally beautiful "Lovesong," originally made famous by dour English rockers The Cure and most recently by British singer Adele.
Special guests on Only One include Gregg Karukas who adds his deft mastery of keys/strings and Paul Brown, who plays guitar on five of the songs, while co-writing the title track, "Una Mas" and "The Tango Boy" (see video above).
Jessy will tour throughout 2015, starting with record release shows at Spaghettinis in Orange County and Beverly Hills, before embarking on a cross country summer tour dotted by festival appearances in Detroit (Dearborn Jazz on the Avenue), Palm Springs (Women's Jazz Fest), and Mission Viejo (JazzFest). Her International schedule includes Jazz Fests in Cancun, Mexico and the Caribbean, on the tropical island of Aruba, and a two-night stand in London.
Tour Dates
Jun 06 – Spaghettini Jazz Club, Seal Beach, CA
Jun 12 – Diaz Music Institue, Houston, TX
Jun 13 – Jazz at the Creek, San Diego, CA
Jun 20 – Spaghettini Jazz Club, Beverly Hills, CA
Jun 24 – Scullers Jazz Club, Boston, MA
Jul 18 – Freedom Park, Charlotte, NC
Jul 22 – Dearborn Jazz on the Avenue, Detroit, MI
Jul 23 – River Raisin Nights, Monroe, MI
Jul 24 – The Jazz Kitchen, Indianapolis, IN
Jul 31 – Balcones Heights, San Antonio, TX
Sep 3-6 – Cancun Jazz Festival, Cancun, MX
Sep 19 – JazzFest, Mission Viejo, CA
Sep 26 – Caribbean Sea Jazz Festival, Aruba
Oct 10 – Women's Jazz Fest, Palm Springs, CA
Dec 03 – San Antonio, TX
Dec 04 – Gem Theater, Kansas City, MO
Dec 05 – Bishop Arts Theater, Dallas, TX
Dec 10 – Pizza Express, London, UK
Dec 11 – Pizza Express, London, UK
Jessy J
My One And Only One
1. Una Mas
2. My One and Only One
3. Lovesong
4. The Tango Boy
5. Paraíso Mágico
6. Back To The Basics
7. You're Making Me High
8. Siempre
9. Cuba
10. Strawberry Letter 23
iTunes https://itunes.apple.com/us/album/my-one-and-only-one/id988895309
Amazon http://www.amazon.com/My-One-Only-Jessy-J/dp/B00VUVDJB0
ONLINE
http://jessyj.com
Tweets by JessyJSax
http://instagram.com/jessyjsax
http://www.facebook.com/Jessyjsax
1888 Media