LISTEN TO NEW MUSIC! Contemporary Jazz Bassist Julian Vaughn Returns with New Album "Limitless" on April 21st, 2015
by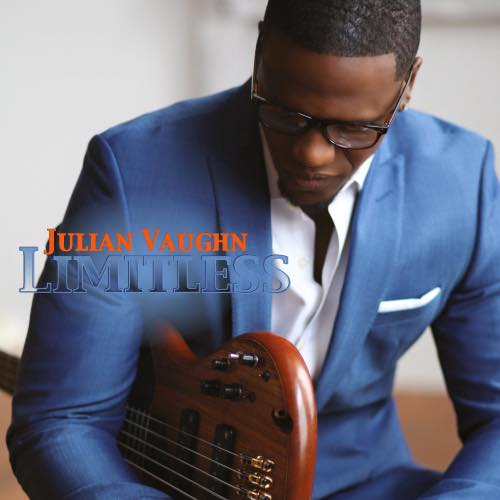 Contemporary/Urban Jazz Bass Player Julian Vaughn to Drop 3rd CD "Limitless" on April 21st.
This one definitely goes out to all the Bass loving, contemporary jazz music lovers in the house.
Talented Bassist Julian Vaughn steps back into the game with a 12 track collection entitled "Limitless," coming courtesy of Trippin N' Rhythm Records & Cutmore Entertainment. The new recording feature special guests saxophonists Elan Trotman, LeBron, Darren Rahn, & Marcus Anderson, flutist Althea Rene, Nicholas Cole on the Keyboards, vocalists Kim Griddine & Anthony Saunders and many more.
This is the 3rd offering to date from the 6'7″ bass player whose sound will hearken you back to the skills of the late Wayman Tisdale. Previous albums "The Purpose Project" and "Breakthrough" had all garnered positive reviews from various jazz outlets across the globe. One of the singles from "Limitless" featuring Elan Trotman titled "Ride Along" is already blazing on YouTube (listen below) & on his official website. T.U.M.S. is currently enjoying another single from off the album – Track 3: "All To Myself" – as we are typing this copy. The classic R&B duo Rene and Angela's "You Don't Have To Cry" influence can be heard all throughout the background on that gem.
Stay tuned for more info…
Connect with Julian Vaughn:
Facebook: https://www.facebook.com/pages/Julian-Vaughn/283169223610
Twitter: https://twitter.com/julianvaughn
Official Website: http://julianvaughnmusic.com/home/
Pre-Order on Amazon.
The Urban Music Scene.com