Kirk Whalum's "The Gospel According to Jazz, Volume IV" is Available NOW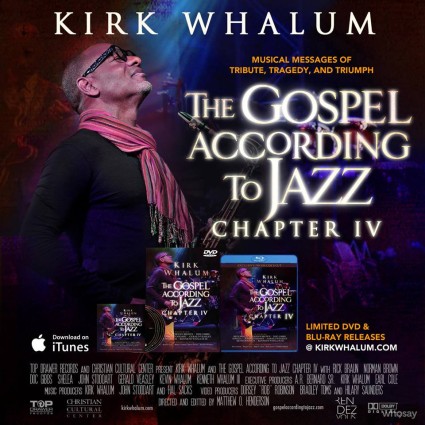 After a six-year wait, Kirk Whalum brings back The Gospel According to Jazz, Chapter IV, this time with a very potent and very personal perspective
Unarguably, Kirk Whalum is one of those few prolific musicians who has managed a steady career in gospel and jazz. His genuine respect for crafting music and his strong faith in Jesus Christ further accentuates what Whalum communicates to his audiences. So it eventually made perfect artistic sense for this saxophonist/songwriter/arranger to balance praise, worship and secular tunes with inspirational spins (originals and covers) basked in Latin, African, soul, touched by smooth and modern jazz orchestrations. This, in turn, has produced the three-chapter mini musical series going back to 1998, entitled The Gospel According to Jazz.
The latest installment of The Gospel According to Jazz returns with Chapter IV, recorded live on November 2014 from Brooklyn's Christian Cultural Center. While this concert relies less on songs birthed from the church compared to Chapters I & II, the focus heads right to what Whalum emphatically describes as the "radical hospitality" of Jesus, with more of an emphasis on improvisation, courtesy of Whalum's close friends: Norman Brown, Rick Braun, Doc Gibbs, John Stoddart and Gerald Veasely. As always, Whalum invites his extended family of Kevin Whalum, Kenneth Whalum III and Kortland Whalum. Many impactful figures are honored throughout this production such as the G.A.T.J. favorite, George Duke ("There"), John Coltrane ("Un Amor Supremo"), Nelson Mandela ("Madiba") and even a very special homeless woman who became friends with Whalum ("Nannette"). The range of topics covered on Chapter IV also goes from one extreme: the motivational anthem by Curtis Mayfield, inspired by the Civil Rights Movement of the sixties, "Keep On Pushin', to an avant-jazz, in-depth perspective of live and death, "Triage."
The Gospel According to Jazz, Volume IV, is now available on CD and DVD through Rendezvous Records.
The Urban Music Scene.com