Jeff Bradshaw Releases New Music Video for Single "All Time Love" feat Robert Glasper, Eric Roberson and Tweet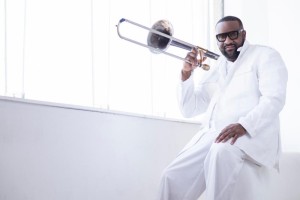 Jeff Bradshaw Releases New Music Video for Single "All Time Love" feat Robert Glasper, Eric Roberson and Tweet
Album "Home" Coming March 31st, 2015
The promotion for the all new, super deluxe project from Trombonist Jeff Bradshaw is in complete full swing with momentum being driven up this week with the release of his brand spankin' new music video for single "All Time Love" feat Robert Glasper, Eric Roberson and Tweet. The lead track comes from the album "HOME," to be released from Shanachie Records on March 31st, 2015.
Take some time out of your busy day music lovers and catch the footage below! To learn more about the new album, click here. More news to come soon…
The Urban Music Scene.com
More News....on The Urban Music Scene!