Trombonist Steve Turre to Release New Project "Spiritman" on March 10th, 2015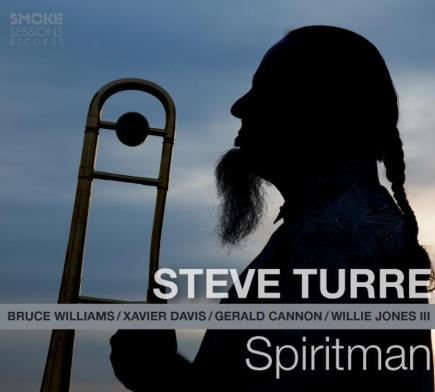 Trombonist Steve Turre Makes an Inspired Return
To His Roots on Upcoming Release, Spiritman –
Available March 10 on Smoke Sessions Records
"Music is about giving and about searching and so that is the spirit….
because without spirit, music is just notes." – Steve Turre
Trombonist/composer Steve Turre has forged a distinctive place for himself with a long series of conceptual albums, often focused upon his innovative use of conch shells; but on Spiritman, his new album for Smoke Sessions Records, Turre has decided to go back to basics, centered upon his brilliant trombone playing. "I like to swing and I like to play the blues. I'm not ashamed to swing and I'm not afraid to swing. I think it's the foundation of the music and I'm proud of it." And swing he does — vibrantly, joyously and vividly on the beat — in the like-minded company of four truly outstanding musicians: alto/soprano saxophonist Bruce Williams, with Xavier Davis, Gerald Cannon and Willie Jones III on piano, bass and drums. Special guest Chembo Corniel brings his congas mastery to one track as well. The repertoire is a delightful selection of standards, jazz classics and five highly compelling new originals by Turre.
With all but one track featuring his marvelous trombone artistry, Turre clearly demonstrates why he is considered one of the ultimate masters of the instrument on today's scene. His powerful, fluid and expressive sound is rooted in the classic traditions of Lawrence Brown and Vic Dickenson, shaped by the modern giants like J.J. Johnson and Curtis Fuller, to emerge as a singular force who is now influencing a new generation of players. Williams is establishing himself as one of today's most inventive saxophonists and the rhythm section not only performs with consummate artistry and sensitivity, but also achieves that elusive quality of unified purpose, providing the engine to powerfully drive the music home. The ensemble work is splendid throughout and the solos are stunning, always crafted to perfectly convey the intent of the compositions.
Three items from the Great American Songbook provide a breakneck tempo, take-no-prisoners foray on "With a Song in My Heart;" a jauntily swinging "'S Wonderful;" and a lushly beautiful, but adventurous take on "It's Too Late Now." Horace Silver's "Peace" is treated to a Dameron-esque arrangement that adds another level of radiance to the exquisite ballad; while "Lover Man," usually painted as a ballad, is instead explored in buoyant swing. The Turre originals provide the blood that runs through the body of this remarkable recording, including the deeply powerful "Trayvon's Blues" channeling sorrow and rage into a gospel-ish lament a la Mingus – a sobering and profound piece, centered by Turre's soulful holler. Soulful is the mode for "Funky Thing," composed for the Saturday Night Live band in a crisp JBs attitude on a fractured ostinato vamp. "Bu," an homage to Turre's mentor Buhaina — Art Blakey — is an appropriately driving, modal cooker; and the angular, sinuous "Nangadef" grooves mightily, stoked by Corniel's congas.
The final Turre original, the title piece that closes this extraordinary album, is a crystal clear window to the soul of Steve Turre. Wrapped around a captivating version of Miles Davis' "All Blues" in medley form, this is Steve's only venture here into the use of conch shells that has created another unique space for him in music in the jazz tradition. Employing his personally developed technique of blowing the shell over the strings of the piano with the sustain pedal held down, a haunting, viscerally evocative sound vibrates and resonates, conveying an aura that is truly Spiritman – and a stunning introduction to the spirited version of the Miles classic, featuring a luminous shell solo.
The pursuit of the transcendent has always been at the core of Turre's music. Whether creating arrangements for giants like Ray Charles, Max Roach and Dexter Gordon; performing from his early years with Blakey's Jazz Messengers through his work with with such stellar names as McCoy Tyner, Elvin Jones, Woody Shaw, Lester Bowie, many legends of Latin music and so many others; or in every enthralling musical adventure under his own leadership, Steve Turre has always set his sights intently upon the highest ideals. "Music is about giving and about searching and so that is the spirit….because without spirit, music is just notes."
Steve Turre · Spiritman
Smoke Sessions Records · Release Date: March 10, 2015
For more information on Steve Turre, please visit SteveTurre.com
For more information on Smoke Sessions Records, please visit SmokeSessionsRecords.com
DL Media