Pianist Jacky Terrasson to Release New CD "Take This" on Feb. 24th, 2015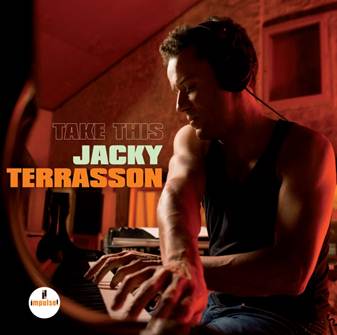 JACKY TERRASSON SET TO MAKE HIS IMPULSE! LABEL DEBUT
WITH FEBRUARY 24 RELEASE OF TAKE THIS
ACCLAIMED PIANIST TO CELEBRATE WITH SHOWS MARCH 13-15
AT DIZZY'S CLUB COCA-COLA AT JAZZ AT LINCOLN CENTER IN NYC
Pianist/composer Jacky Terrasson makes his Impulse! label debut with the February 24, 2015 release of Take This, a sparkling new album that captures the quintessence of his multifaceted musical makeup, which draws upon modern post-bop, pop, hip-hop, European classical, and African and Afro-Caribbean rhythms and melodies. Terrasson will celebrate with release event performances at Dizzy's Club Coca-Cola at Jazz Lincoln Center in New York City March 13-15. Further tour dates will be announced shortly.
Being the product of a French father and an American mother, the 49-year-old Terrasson has built a distinguished, two-decade plus career by threading musical links between various cultures and nationalities. On Take This, he convenes a truly international band featuring American bassist Burniss Travis, Cuban-born drummer Lukmil Perez, Malian percussionist Adama Diarra, and Afro-French vocalist and human beatbox virtuoso Sly Johnson, forming a hip cosmopolitan combo that represents jazz's expansive global mindedness while still affirming its African-American roots.
Take This boasts four Terrasson originals starting off with the opening, "Kiff," on which Terrasson pairs his jovial piano and keyboard melodies with Johnson's lissome, wordless vocals. Terrasson deftly infuses Afro-Cuban melodicism on the delightful "Dance," which also provides the perfect vehicle for Diarra's splendid percussion work alongside Johnson's shadowy beatbox ingenuity. "November" bounces to vivacious yet sensitive Caribbean beat propelled by Perez and Travis as Terrasson unravels labyrinthine passages marked by cogent melodicism and spry rhythms. Terrasson reveals his balladry mastery on the sensual "Letting Go."
The album also contains nine surprising covers that range from inventive takes on a handful of jazz standards – Bud Powell's "Un Poco Loco," the Miles Davis/Bill Evans ballad "Blue In Green" and Paul Desmond's "Take Five"— a riveting piano-vocal duo rendition of the Beatles' "Come Together," an ebullient reading of Henri Salvador's 1950 French-Caribbean hit, "Maladie D'Amour" and a jazz/hip-hop makeover of Gotye's 2011 international pop hit, "Somebody That I Used to Know."
Throughout, Terrasson enlivens the music with sleek improvisations, rhythmic fluidity and an impeccable touch – all of which have become hallmarks to his singular sound. He also ignites a rapport with his band mates that favors memorable and importantly meaningful musical dialogue over callow pyrotechnics, making Take This another welcoming musical adventure in Terrasson's oeuvre.
* * *
Jacky Terrasson (born 1965) is an internationally renowned Franco-American pianist, composer and bandleader, who recorded his debut as a leader in 1992. The following year, he won the Thelonious Monk International Piano Competition then toured with the legendary Betty Carter, both of which propelled him to the top echelon of the jazz world. In addition to releasing 10 memorable albums on Blue Note Records between 1994-2007, he's recorded for Concord Records and Universal France. During his distinguished career, Terrasson has also worked with notable jazz artists such as Cassandra Wilson, Stefon Harris, Dee Dee Bridgewater, Jimmy Scott and Dianne Reeves.
TRACKLISTING
1- Kiff (Jacky Terrasson)
2- Un Poco Loco (Bud Powell)
3- Take Five(Take 1) (Paul Desmond)
4- Come Together (John Lennon – Paul McCartney)
5- Dance (Terrasson)
6- Blue In Green (Miles Davis)
7- November (Terrasson)
8- Take Five (Take 2) (Paul Desmond)
9- Maladie d'amour (Henri Salvador)
10- Somebody That I Used to Know (Walter André De Backer)
11- Letting Go (Terrasson)
impulse!