Wendy Williams to Host the Soul Train Awards 2014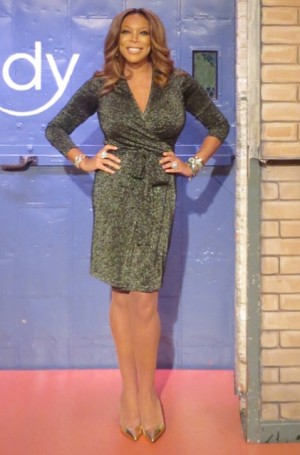 She's Your Queen To Be…
WENDY WILLIAMS TO HOST SOUL TRAIN AWARDS 2014 IN LAS VEGAS ON NOVEMBER 7TH
PREMIERING NOVEMBER 30TH AT 8PM ET/PT ON CENTRIC AND BET, THE AWARDS SHOW WITH REAL SOUL RETURNS TO THE ORLEANS ARENA IN LAS VEGAS
NEW YORK, Oct. 6, 2014 /PRNewswire/ — CENTRIC today announced that media mogul Wendy Williams will host SOUL TRAIN AWARDS 2014, celebrating and honoring R&B legends and soul music's brightest new stars. The show will be held on November 7, 2014 at the Orleans Arena in Las Vegas with tickets on sale to the public. The show promises to engage fans with unforgettable performances, iconic tributes and special appearances by today's leading musicians. SOUL TRAIN AWARDS 2014 will air on CENTRIC and BET on November 30, 2014 at 8PM ET/PT.
"Last year Wendy Williams did an amazing job hosting our red carpet show, so this year, we're excited to have the queen of daytime talk host SOUL TRAIN AWARDS 2014, as we celebrate some of the most-promising new artists as well as the industry's greatest legends," said Paxton Baker, General Manager and Executive Vice President, CENTRIC. "We're back at the Orleans Arena, one of the nicest production spaces in town, where we'll be hosting a weekend full of timeless entertainment and we're inviting fans all over the country to join us for the most soulful 3-day party to ever hit Vegas!"
This year's show promises to be one for the books as best-selling author, entrepreneur and audience favorite Wendy Williams is set to take over the SOUL TRAIN AWARDS 2014 stage as host. No stranger to entertaining, Williams brings her signature charm and quick wit to the Orleans Arena where she will make her awards show hosting debut. She is currently in production on the sixth season of the hit daytime talk show, "The Wendy Williams Show," headlining her second "Lipshtick" comedy series in Las Vegas on Halloween, and is also producing the Lifetime Original Movie, "Aaliyah: The Princess of R&B."
"As a longtime lover of R&B and Hip Hop, I am beyond excited to host this year's Soul Train Awards on CENTRIC," said Wendy. "It is an honor to be a part of the biggest night in music and highlight the achievements of both legends and rising talent. Vegas, how you doin'?"
For additional information and to purchase tickets for Soul Train Awards and other exciting events, visit www.SoulTrainWeekend.com or call 888-234-2334.
The Soul Train Awards is directed by Tony McCuin and produced by BET Event Productions and Sunseeker Media. Executive producers of the network telecast are as follows: Paxton Baker, Tami Arasli, Derek Lewis from Centric; Bart Phillips from Sunseeker and David Koff and Jerry Letter from Soul Train Holdings.
For more information, please visit BET.com/SoulTrain.
Follow Centric on Twitter (@CentricTV), Instagram (@CentricTV), Facebook.com/CentricTV
Be a part of the Soul Train Awards conversation using #SoulTrainAwards
SOURCE Centric