Jazz Legend Ernie Watts to Release New Project with Quartet "A Simple Truth" on Sept. 30th, 2014
by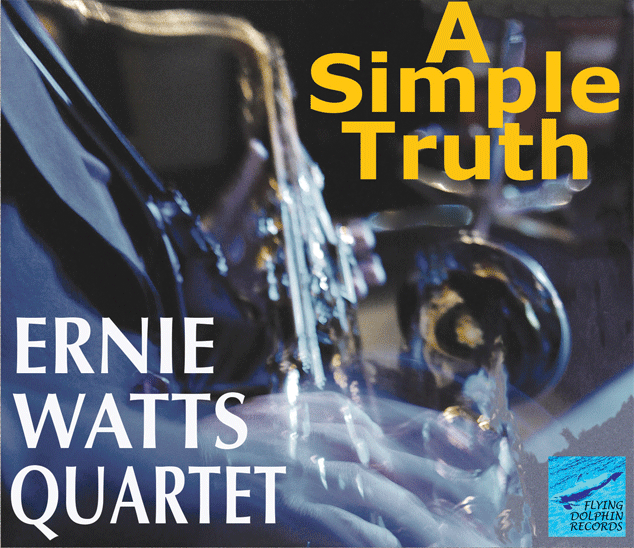 ERNIE WATTS NEW RELEASE "A SIMPLE TRUTH" | Coming Sept. 30th, 2014
"A MUSICAL REFLECTION ON THE ARC OF A 'JAZZ' DAY"
"A Simple Truth" (FD 1009) is the latest release from two-time Grammy Award winning saxophonist Ernie Watts. Scheduled for a street date of September 30, 2014 from the artist's Flying Dolphin Records, this is the latest in a series recorded with his Ernie Watts Quartet. "A Simple Truth" is a concept album; a journey through a "jazz day," starting with early morning daybreak. Watts chose LA pianist Ron Feuer to create the lush orchestral opening, "The Sound: Morning," and closing, "The Sound: Evening" with Watts improvising over both pieces, which encircle the Quartet tunes.

Sunrise gives way to the exquisite ballad "No Lonely Nights" by Keith Jarrett, which begins with an a cappela saxophone solo, a meditation to start the morning. Time moves forward with "The Road We're On," written by Quartet drummer Heinrich Koebberling, a track that swings with its expansion from a blues foundation. Watts' original piece "Acceptance" follows, accenting the rising tempo of midday with increasing energy.
But even an energetic Watts composition is always based in melody, the foundation for his high-flying improvisations, connecting with his ability to communicate on multiple levels. Next, the intense heat of Dizzy Gillespie's "Bebop" hits, at day's peak. "Hope In the Face of Despair," written by Billy Childs, moves the group into warm but pensive reflection. And as the jazz day winds down, we relax into the gentle sounds of "A Simple Truth," another Watts original.
The project was recorded in Cologne, Germany, with the touring European Ernie Watts Quartet, together for over 15 years. The wordless conversation between these players has become quite deep and rich, over time. Watts named this collection of music "A Simple Truth"–his understanding of music as one of the prime human basics that connects people, going right past language, ethnicity, culture and even history, into direct feeling.
In March of 2014, Watts received the prestigious Frankfurt Music Prize at the Frankfurt MusikMesse. Founded in 1980, the Frankfurt Music Prize is presented annually for special achievements in music performance, composition, musicology, teaching, or service to music. Per the Frankfurt Music Prize Foundation, Watts was "selected for his strikingly melodic saxophone style and his original tone language, with which he has already enriched several generations of musicians," to which they added, "He has generated an impressive artistic legacy."
After 16 albums as a leader, for a variety of labels large and small, Watts started Flying Dolphin Records in 2004, in partnership with his wife Patricia. The label is distributed by City Hall Records in the US and Laika Records in Europe.
For more information on prior releases visit http://www.erniewatts.com/discography/ and for hi-res photos or current biography download http://www.erniewatts.com/press.html.
Ernie Watts Quartet
Upcoming Live Appearances
Oct. 25 – The Jazz Initiative / Wurzburg, Germany
Oct. 31 – Le Duc Des Lombards / Paris, France
Nov 1 – Le Duc Des Lombards / Paris, France
Nov. 5 – Musikschule / Kufstein, Austria
Nov. 12 – Unterfarht / Munich, Germany
Nov. 18 – Yoshi's / Oakland, CA
Nov. 19 – 142 Throckmorton Theater / Mill Valley, CA
More Dates To Be Announced
Jazz Promo Services