Drummer Mark McLean Releases CD "Feel Alright" | WATCH NEW VIDEO "Angel On Your Pillow" feat Wade O. Brown
by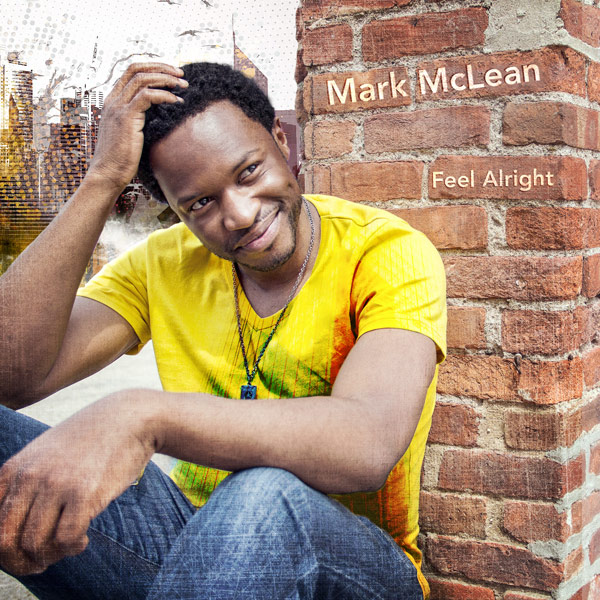 One of the most dynamic and versatile studio and touring drummers in the jazz, R&B and pop realms over the past 15 years, Mark McLean had a single criterion when it came time to expand his horizons beyond the groove and record his long awaited breakout as a powerhouse composer and lyricist: it had to Feel Alright.
In an industry that often prefers pigeonholing to expansive creative expression, the multi-talented artist – whose credo is "I don't want to be seen as a drummer, I want to be known as a musician whose instrument just happens to be drums" – breaks all the rules on this eclectic 11 track set, sharing his love for everything from old school soul, down and dirty blues/funk and traditional jazz to Southern folk-pop with a zydeco twist, Rat Pack-like swing, edgy pop/rock and New Orleans brass band music.
While a complete one-eighty in vibe and vision, Feel Alright is the follow-up to McLean's
acclaimed 2010 indie recording Playground, an all-instrumental showcase for his band of the same name whose tracks earned significant airplay on both traditional jazz and urban jazz stations. The new album is produced by Grammy winning engineer and producer Steve Bigas, well known for his previous work with Taj Mahal and Ziggy Marley and for his long association with Daniel Lanois.
Since moving to New York in 1999 and raising his international profile with his several year association with jazz singer/pianist Andy Bey in 2000, McLean – a jazz performance graduate from the University of Toronto who played at age 22 with fellow Canadian and jazz icon Oscar Peterson – has kept time in the studio and/or on tour with a virtual "who's who" of jazz and pop artists whose music and influences spans multiple generations. These include Wynton Marsalis, Quincy Jones, Gladys Knight, Diana Krall, Glen Campbell, Carla Cook, Linda Eder, Jimmy Webb, Vanessa Williams, Patti Austin, Gladys Knight, Joe Sample, Jamie Cullum, Andrea Bocelli, Catherine Russell, Dionne Warwick and The Backstreet Boys.
Following his time with Bey, he developed a long term association with vocalist/pianist Peter Cincotti, toured Europe with George Michael in 2011-12 and worked in the studio
(on a Billy Joel track called "All My Life") with the late legendary producer Phil Ramone.
Ramone, who had called on McLean for numerous sessions since 2003, once said, "Mark is a tasty, sure handed drummer, a song man's musician." Still very much connected to the music of his home country, McLean has also worked in recent years with Molly Johnson (co-producing and arranging her Juno-award winning album Lucky) and co-arranging Sophie Milman's Take Love Easy. Most recently, McLean has toured with pianist and singer Michael Feinstein. He also served as drummer, music director and bandleader for the 2011 edition of Jazz FM 91.1's internationally renowned Jazz Lives concert/broadcast in Toronto, in which he and the house band backed Al Jarreau, Joey Defrancesco, and Randy Brecker. In addition, McLean was the musical director, leading the house band for the CBC's 2013 Sounds of the Season, an annual live music event that raises money for various charities.
Considering all of the legendary vocalists he has worked with over the years, it would have been a snap for McLean to reach out to a handful of famous names to sing lead on the batch of original tunes that populate Feel Alright. But with the exception of Bey, who is featured on the title track "January Rain," "Silent Prayer" (which the singer co-wrote) and (as the fictional Lamont Jeffreys) "Sugar Bones," McLean chooses instead to showcase a wide range of talented (though lesser known) singers whose vocals match perfectly with the style of their songs. Listeners will no doubt start Googling and checking out YouTube immediately when they hear Wade O. Brown ("Shining Star Be Mine," "Angel On Your Pillow"), Kellylee Evans ("24 Years"), Howard Fishman (also the co-writer of his featured tune "Surrounded By You"), Denzal Sinclaire ("Where's The Door?"), Mark's brother, Toronto based vocalist and saxophonist Lester McLean ("Damn Shame") and Michael Dunston ("Only Friend").
While the majority of his fans and the music industry at large thus far know McLean as "the drum whisperer," he started his musical life as a classically trained pianist and has long had a penchant for composing and songwriting with lyrics. When he moved to NYC via a grant awarded him by the Canada Council for the Arts, he originally wanted to study with his idol, drummer Brian Blade—who eventually turned McLean on to his first teacher, Kenny Washington (McLean later studied with Billy Kilson). McLean was inspired by Blade's success as an artist that established himself with instrumental recordings, but later sang on his 2009 pop oriented release Mama Rosa.
"I had originally thought that I would follow up Playground with another instrumental album," McLean says, "but my urge to write more songs with music and lyrics was so strong, that putting out a recording with vocals seemed like the next logical step. When I thought back to what Brian had done, I thought, 'Why limit myself to just being an instrumental artist?' I'm not consciously trying to become undefinable as an artist, but I always think the best approach is to follow my instincts. I had the desire to create a vocal record showcasing these songs, and I knew that now was the time to do it.
"It helped meeting and working with a producer I liked, and Steve Bigas, who I knew from our days in the same high school jazz band," he adds. "He did a wonderful job pulling all the diverse elements together. The songs cover a lot of ground genre-wise, but they can all live in harmony under the same roof. Feel Alright is like the ultimate playlist for me that lets my fans and new listeners know all of my influences. Steve understood my vision for the album and he came up with the brilliant idea of making it a raw, organic recording cut mostly live in the studio with minimal mic-ing and no digital editing. Because I'm playing piano and drums on most of the tracks, there was some overdubbing, but for the most part, we took the old school approach and that added a free spirited flavor to it."
That cool, freewheeling energy is there from the get-go as Feel Alright opens with "Shining Star," an emotional old school soul ballad sung by Wade O. Brown that crescendos with McLean's powerful drum flourishes. McLean's talent as a lyricist shines through on "24 Years," a wistful folk and gospel inflected song about how feelings stay the same despite the passage of time. The brassy romp and organ fired "Sugar Bones," performed by the fictional cartoon character, singing drummer Lamont Jeffreys (actually voiced by McLean and Bey), digs deep into McLean's love for Southern music, jazz and blues/soul. Following the poignantly beautiful ballad "January Rain" (a feature for Bey, with only minimal brushes by McLean) is the mournful, front porch Southern blues ballad "Surrounded By You" featuring Howard Fishman's Tony Bennett-like vocals and a zydeco touch.
The lively, swinging piano driven romp "Where's The Door?" is a romantic throwback to the Rat Pack era, with Denzal Sinclaire singing McLean's colorful story about a traveling musician's one night stand that took a year to happen. Mark's brother Lester McLean sings "Damn Shame," a mid tempo blues/rock and funk tune that weaves a humorous tale about a budding romance featuring characters from worlds apart; she's a working woman and PhD student and he's a busboy. McLean's introspective words about the need to learn lessons from our sadness and pain are the heart of the melancholy ballad "Only Friend," sung by Michael Dunston. Wade O. Brown returns for the brass fired retro-soul romp "Angel On Your Pillow" before the set closes with two songs that show different sides of Bey's musical personality—the stark and plaintive piano-vocal based ballad "Silent Prayer" and the rousing title track "Feel Alright," a funked up, brass fired Mardi Gras celebration complete with call and response vocals.
"I'm grateful for having the chance to play drums with so many people I love and who are heroes of mine," McLean says, "but along with this success has been a tendency to think of me in a singular way. Feel Alright is my chance for people who know me as a sideman to see that I'm also a passionate songwriter, pianist and arranger. I feel that the best part of the career I've had is that I've been afforded so many opportunities to be inspired by some of the greatest musicians, composers and artists in the world."
Official website: Mark McLean