Blues Master Lucky Peterson to Drop New CD "The Son of a Bluesman" on June 10th, 2014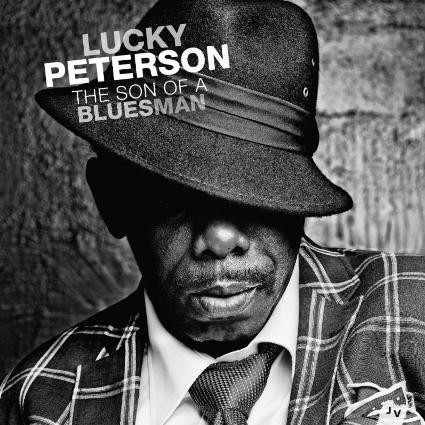 Blues Master Lucky Peterson Returns with
Career-Defining Album, The Son of a Bluesman,
Available June 10 on Jazz Village
Lucky Peterson is the most dangerous triple threat working in the blues. He has gained a reputation as one of the most preeminent performers of the modern era as a searing lead guitarist, fantastic organist, and first-rate vocalist. His many talents are truly mind-boggling.
Peterson has blazed the blues trail since he was a little kid. At the young age of five he had a hit single in 1969 with "1-2-3-4″ and subsequently appeared on the "Ed Sullivan Show," "David Frost Show," "The Tonight Show" and others, performing that Willie Dixon-produced tune while seated at the hulking Hammond B-3 organ. Now approaching his 50th birthday, Peterson is back on the scene with a career-defining album for the Jazz Village label. With such titles as "Blues in My Blood," "I'm Still Here" and the autobiographical title track (penned by renowned Texas playwright Dianne Tucker), The Son of a Bluesman may be Peterson's most potent and personal recording in his extensive discography going back to his 1989 debut, Lucky Strikes!
As Peterson explains, "My wife and I were playing at Tucker's Blues in Deep Ellum, Texas, and the proprietor there, Dianne Tucker, is a close friend. Because she knew my story so well, she wrote the song 'The Son of a Bluesman' for me. Then my bass player (Timothy Waites) wrote 'I'm Still Here' because he's been with me for four years and we traveled down the highways together so he knew where I was coming from. When he delivered that song to me I was like, 'Man, you got me straight down to the T.' Another friend gave me 'Blues in My Blood.' And when I went into the studio to record those songs, it all came together and the emotions just flowed."
Elsewhere on The Son of a Bluesman, the Dallas-based bluesman covers Wilson Pickett's signature "Funky Broadway" and Johnny Nash's "I Can See Clearly Now," which takes on special meaning given Peterson's recent recovery from his struggles with drugs. The blues master also pays tribute to his mentor Bobby "Blue" Bland with a rendition of his trademark tune, "I Pity the Fool."
"I love Bobby Bland," says Peterson. "I got a chance to be around him when I was young and he was very encouraging to me. Both Bobby Bland and Little Milton were great to me. I'm definitely lucky I got a chance to be around those cats and I appreciated them letting me do my thing and being supportive of it."
"Nana Jarnell" is dedicated to Peterson's mother and also the mother of his wife Tamara Stovall-Peterson. "My mother's name was Jarnell and we used to call her mother Nana, so I combined the two names in the title," he says.
Peterson's wife also penned the tune "Joy," which Peterson recorded at his Dallas home on dobro guitar and which features cameo appearances from his daughter Lucki Azariah Peterson and his son Tamaron Stovall. 'We set up in my kitchen," he explains. "We had microphones on the ceiling fan and I took an orange crush can and put some rocks out of the fish tank into the can, and that was my drums. My wife sang the first verse and then we woke my daughter up at two o'clock in the morning to come and sing on the second verse. And then I sent the tapes to my son and said, 'Hey man, since you like to rap, I'm sending you something and I want you to rap on it.' So that's all my family, it's all heartfelt stuff."
For sheer, unadulterated burn, the album's instrumental closer, "You Lucky Dog," can't be beat. A showcase of Peterson's blazing chops on organ and stinging guitar licks, it concludes The Son of a Bluesman on an exhilarating note.
"This is the first record that I ever produced myself, without having anybody watching me over my shoulder," says Peterson. "Everything went the way I wanted it to go and I'm really proud of what I came up with." He adds, "My father would've loved this record. He turned out to be my biggest fan."
About Lucky Peterson
Born in December of 1964 in Buffalo, New York, Peterson was immersed in music from a very early age. His father, James Peterson, was a guitarist and singer who performed regularly at Buffalo's jazz and blues club The Governor's Inn. It was at the foot of his father that he soaked up the spirit of the blues. Peterson, a child prodigy, showed a remarkable gift for playing the organ at an early age and was discovered by bassist, composer and Chess Records producer Willie Dixon in 1969. The young musician recorded his debut album, Our Future: 5 Year Old Lucky Peterson, which included his hit single "1-2-3-4." At age 17, Peterson studied at the Buffalo Academy for Visual and Performing Arts, where he learned how to play French horn. Shortly afterwards, he joined blues star Little Milton on the road and remained in his band for three years, at which point he hooked up with the soulful singer Bobby "Blue" Bland for a three-year stint.
In 1987, Peterson launched his solo career with Lucky Strikes! on Bob Greenlee's Florida-based King Snake Records. That debut album was subsequently picked up by Alligator Records, which led to 1989's Triple Play on the Chicago-based blues label. Peterson was picked up by Verve Records in 1992 and released the John Synder-produced I'm Ready. He followed with two other Snyder-produced records for the label including Beyond Cool (1994) and Lifetime (1996), the latter outing featuring bassist Bootsy Collins and drummer Dennis Chambers. In 1997 he recorded a tribute to iconic gospel singer Mahalia Jackson with Mavis Staples on vocals and Peterson on organ. Over the past decade, Peterson recorded a string of albums for a variety of labels, ultimately leading him to document his own life on the compelling, autobiographical The Son of a Bluesman.
Lucky Peterson · The Son of a Bluesman
Jazz Village · Release Date: June 10, 2014
For more information on Lucky Peterson, please visit: lucky-peterson.com
For more information on Jazz Village, please visit: jazzvillagemusic.com
DL Media