Incognito to Drop CD, "Amplified Soul" on May 13th, 2014 | WATCH NEW VIDEO!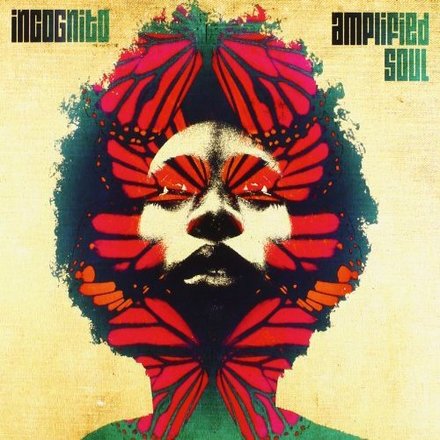 GROUND BREAKING & PIONEERING UK GROOVE-MASTERS INCOGNITO CELBRATES
35TH ANNIVERSARY WITH
AMPLIFIED SOUL
(OUT MAY 13TH)
New CD Features Appearances By Carleen Anderson (Brand New Heavies, Young Disciples), Deborah Bond (Chaka Khan, Sade, Anita Baker) Original Jamiroquai Drummer Nick Van Gelder, Saxophonist Nigel Hitchcock (Ray Charles, Tom Jones, James Brown) & Longtime Incognito Collaborators Imaani, Tony Momrelle & Vanessa Haynes & More!!
The enduring success of Incognito has been one of the great stories to emerge from the UK music scene over the past three decades. The pre-eminent funk/jazz/soul/dance outfit in the world, spearheaded by ground-breaking mastermind and UK groove-master Jean-Paul "Bluey" Maunick, marks a milestone and celebrates their 35th Anniversary with their 16th studio album Amplified Soul.
Musical genius/chameleon Bluey has collaborated with a who's who list in music including James Brown, Stevie Wonder, George Benson, Chaka Khan, R. Kelly, Leon Ware, George Duke, Phillip Bailey Steve Gadd and Maxi Priest, among numerous others. Bluey pioneered the 'Acid Jazz' movement and laid down the blueprint for the neo-soul scene to follow. At a time when drum machines and sampling dominated the airwaves, Bluey and Incognito reminded us of the sheer beauty of the human soul and instrumental virtuosity. They scored hits with versions of Stevie Wonder's "Don't You Worry 'Bout A Thing" and Ronnie Laws' "Always There," selling more than a million records in the process! Bluey reflects, "We have a sound of our own and we are not trying to follow anyone else's groove! Incognito has never been a band that tries to dazzle with flashiness and technical prowess, we groove to make you move, we shift to uplift and we use captivating melodies to tell our stories."
Now celebrating three decades of effortlessly churning out mind-blowing and chart-topping hits, Incognito kicks it up a notch and delivers Amplified Soul on their highly anticipated latest effort. Amplified Soul was recorded and mixed at the legendary Livingston Studio in North London. It is the same studio where The Buena Vista Social Club's eponymous multi-million selling debut was mixed and Björk's 1993 debut was also recorded. Incognito creates their own historical magic at the same studio with Amplified Soul. The album is an electrifying collection of virtually all original soul drenched, jazz infused funk anthems that are sure to stand the test of time.  The album features Incognito favorites and vocalists Imaani, Tony Momrelle and Vanessa Haynes and new addition Katie Leone. They are joined by legendary singer/songwriter Carleen Anderson (Brand New Heavies, Young Disciples) and Deborah Bond (Chaka Khan, Anita Baker, Sade). Incognito also welcomes shining newcomer, 22 year old Australian singer Chiara Hunter
"I get sheer joy from making music. I have massive gratitude that I am able to make a living from my labor of love" shares Bluey who cites the live music scene in the UK as a main inspiration. Relocating to London from his native Mauritius (a small island in the Indian Ocean) at age ten, Bluey recalls the sounds of Stevie Wonder, Marvin Gaye, Santana, Earth Wind & Fire and Kool & The Gang making a profound impression.  There was also a vibrant UK music scene that helped to mold and motivate the young Bluey to reach new heights.  "My first band was New Life with David Grant," recalls Bluey. "His cousin later managed Light Of The World (forerunners of the late 70s/early80s UK funk/jazz movement). I worked in his record shop in Tottenham and we'd rehearse upstairs. Some of the future Light Of The World musicians would pop in to jam. I switched from bass to guitar when Paul 'Tubs' Williams came in; he was only 14 and blew everyone's minds. Spawning a new band, the name Tower Block was changed to the more uplifting Light Of The World and in 1978, Chris Hill's Ensign imprint promptly signed them. We ended up at Phonogram Studios and could suddenly buy any equipment we wanted in their shop. No one stopped to think I can buy a car! All we could see was wah wah pedals and phaser units!" The self-titled LOTW debut was a landmark for UK jazz funk featuring extended high-energy club hits.
With guitarist, producer and band leader Bluey at the helm on Amplified Soul, Incognito features the fiery rhythm section of keyboardist Matt Cooper, bassist Francis Hylton, drummer Francesco Mendolia and young percussion sensation Joao Caetano. Their seamless and irrepressible and funky grooves are punctuated by the trademark Incognito horns and the results are sublime. There are guest spots by original Jamiroquai drummer Nick Van Gelder on two cuts, seasoned alto saxophonist Nigel Hitchcock, synthesiser wizard Ski Oakenfull, Elements Of Life percussionist Roberto Quintero, and frequent Incognito collaborator Richard Bull, among many others.
"Amplify My Soul (Part 1)" opens the journey and pays homage to the likes of Marvin Gaye and Stevie Wonder as singer Tony Momrelle conjures up the magic of sweet 70s soul and sets the tone for the riveting set to follow.  Singer Vanessa Haynes delivers superb vocals on the spunky "I Couldn't Love You More" and Imaani  entices with the sensual "Rapture" as her smoky and enticing vocals beckon "We're taking flight, into the light, far into the atmosphere…" If ever Incognito had a festival crowd anthem, then "Hands Up If You Wanna Be Loved" is it! Katie Leone not only sings "Hands Up If You Wanna Be Loved" in her bluesy and sassy way… She demands it!
The album's first single, "Hats (Makes Me Wanna Holler)" is an-irresistible uptempo kicker that dares you to sit still. One listen and you too will soon want to holler! Amplified Soul's lone cover, Atlantic Starr's "Silver Shadow," gets a total live makeover. Where the original used strings and programmed drums, this version punctuates with a mule-like kick from the horn section and live percussions and drums.  Proving to be an old soul, young singer Chiara Hunter invites you in with her warm tone and crystal edge on the beautifully penned "Deeper Still." "Amplify My Soul (Part 2)" revisits the opening sequence led by a stunning tenor saxophone solo from a bygone age that is unafraid to probe the inner spaces between every chord to great effect. Tony Momrelle steps up once again on "Something 'Bout July," a soulful ditty with a hint of Samba overtones that takes a complete left turn on the outro, complete with solo exchanges from keyboard wizard Matt Cooper and Bluey's guitarist uncle Gerard Maunick, who had inspired a young Bluey to pick up the guitar at the tender age of seven in Mauritius fifty years ago. The song is about falling utterly in love. The person in question who remains nameless is referred to by the month in which they met. Katie Leone keeps the love flowing on the bluesy "Day Or Night" singing "And I want to lose myself inside this feelin', the kind of feelin' that you get when you look into the sun." The song "Wind Sorceress," is the second of the album's two instrumentals. The trumpet floats majestically over a simmering groove and soars like an eagle in the b sections that opens up all too briefly like the windows of the soul… Incognito as we know it proves why they are Jazz Funk at it's best!
A spiritual and mesmerising vocal follows from Carlene Anderson, who also co-wrote the lyrics and melody to the thought-provoking and conscious "Another Way." Amid the chaos of our divided planet she asks us to unite and bring about some vital changes. She requests us to bring pressure on the old guards to change their ways… "let us try levelling the playing fields, surely we can repair that broken wheel, if we stay the same old way how can we heal, Let us try another way." Deborah Bond graces Amplified Soul on "I See The Sun." The inspirational song shines brightly illuminating hope and inspiration for those in need of upliftment and promises that with love, understanding and knowledge, better days are ahead. The words say "I go from day to day, and yeah I have some bad days, you're probably not a stranger to them too, but more and more I get a feeling, an awakening, it's unexplainable and it takes the fear away."  Tony Momrelle and Vanessa Haynes join forces on the pulsating and groovalicious "Never Known A Love Like This." Tony and Vanessa's passionate and engaging exchange on the track's tight and flawless groove that dares you not to dance. Although Vanessa Haynes has been a long time Incognito collaborator, she truly makes her mark on Amplified Soul and the stand out "The Hands Of Time." Bluey shines light on wisdom gained from life experience  and Vanessa croons, "Maybe someday you'll look back, with the understanding why we do the things we do. It's always easier to see, when your soul has grown and time sets you free". "Stop Running Away" is the album's closing track and delivers a last minute surprise in the form of Bluey's falsetto lead vocal that will have you making comparisons with the late Curtis Mayfield. The soul searching and introspective lyrics make a simple request of us all to look inside to find the answers to their own truths. You could say that has been Incognito's mission all along!
Amplied Soul is a fitting celebration of one of most creative and inspiring unites on the creative music scene. Bluey declares Amplified Soul as an extension of the ethos of Incognito. He concludes, "This is a labor of love and gift to those who have supported us over the years"!