The Top #100 R&B Slow Jams #9 | Isley Jasper Isley – Caravan of Love
by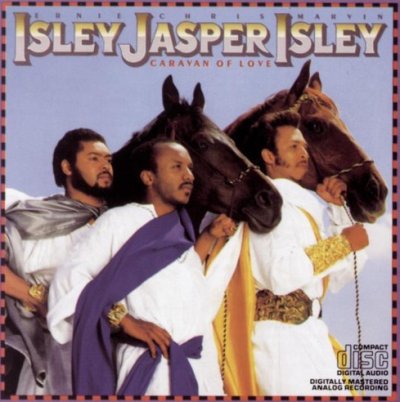 The legacy of the Isley Brothers…
There is WAY too much to mention when getting into the background to one of the hottest, well known, full pledge bands in modern Rhythm and Blues, Soul music history. And we will not waste any time attempting to get into the bio. No, not at all.
Instead, we will move on…and keep it movin'….until we FINISH our Top 100 R&B Slow Jams on T.U.M.S.
Oh, don't worry….we have ANOTHER Top 100 of something on standby for all of y'all. Sit tight.
The incredible legacy of brotherly trio, Isley-Jasper-Isley could also be thankful to one of the branches from the tree it grew from (The Isleys…), when hit fellowship, sentimental ballad, "Caravan of Love" blew the mainstream circuit back in 1985. The classic track flowed all the way up to the #1 spot on Billboards' R&B Singles chart and its essence, synergy and power has been flying high into outer space ever since. Ernie & Marvin Isley and Chris Jasper anchored the ship that sailed across the outer seas and left an impression on soul music so great, they were recently honored (with the Isleys) at the 2014 Grammy Awards with a Lifetime Achievement Award.
Our hats are OFF tonight for the Isleys. Celebrate love everyday with a LISTEN to the #9 spot in our never ending, long lasting, 'when are we gonna finish this..', Top 100 R&B Slow Jams – It's Isley-Jasper-Isley with "Caravan of Love!"
To access our current countdown list of Top 100 R&B Slow Jams, please click here!
The Urban Music Scene.com