Godfather of UK Soul, OMAR Launches New Album, "The Man" on June 18th, 2013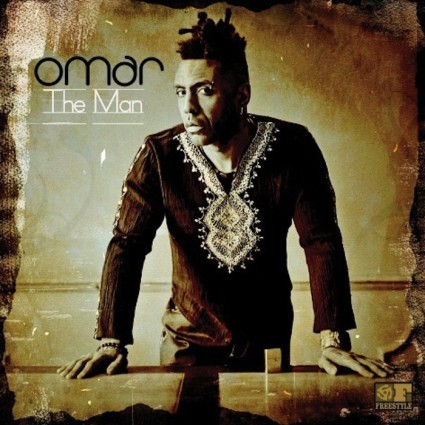 OMAR IS "THE MAN"
THE GODFATHER OF UK SOUL LAUNCHES NEW ALBUM WITH CARON WHEELER OF SOUL II SOUL AND STUART ZENDER OF JAMIROQUAI
Mention Omar to any number of people in the American R&B/ neo-soul scene and the reaction is immediate: "Omar is great!" Indeed, some of Omar's more notable fans include Stevie Wonder, Erykah Badu, Common and Angie Stone—all of whom have made guest appearances on Omar's recordings. Omar's unique mix of R&B, jazz, funk and Latin music has been hugely influential, leading some to dub him "the godfather of UK soul" and others to cite him as one of the key progenitors of the neo-soul movement. Yet he has never truly broken through in the United States, despite the massive success of his seminal hit "There's Nothing Like This" in the UK. He has only released a handful albums in his more than 20 years of recording—which means that the release of any new Omar album is truly an event.  On June 18, 2013, Shanachie Entertainment will release Omar's first new album in seven years, a work titled most aptly THE MAN, featuring Caron Wheeler of Soul II Soul, Stuart Zender of Jamiroquai and Pino Palladino.
"THE MAN is the latest in my musical journey and I'm happy to say it fits well with all the other stops I've made along the way," Omar says. "If you know and like my style, this will not disappoint! The mixture of funk, Latin, jazz, reggae, soul and classical is all there. I've been blessed to work with a whole raft of iconic musicians in my lifetime: Stevie (Wonder), Leon Ware, Lamont Dozier, David Frank, Harvey Mason, Angie Stone, Erykah Badu, and Common, to name a few. This album has been blessed by my bass hero Pino Palladino. My good friend Stuart Zender also blesses us with his skills alongside the wonderful Caron Wheeler and my talented brother Scratch Professor."
Indeed THE MAN harks back to the blend of elements and groove-oriented aesthetic that marked Omar's first two albums and his seminal hit "There's Nothing Like This."
Omar is planning a U.S. tour in the Summer, an all too rare opportunity for his many
American fans to see him in the flesh.
"My U.S fans have shown loyalty from the start and I find it touching that it shows no sign of diminishing," Omar enthuses. "From East to West coast, when I have toured, the love is so overwhelming it is literally breathtaking and I can't wait to get back to American shores to return the love!"
Shanachie Records