R&B Singer Carl Thomas is Back with New Single, "Don't Kiss Me" | New Album "Conquer" Coming Dec. 6th, 2011
by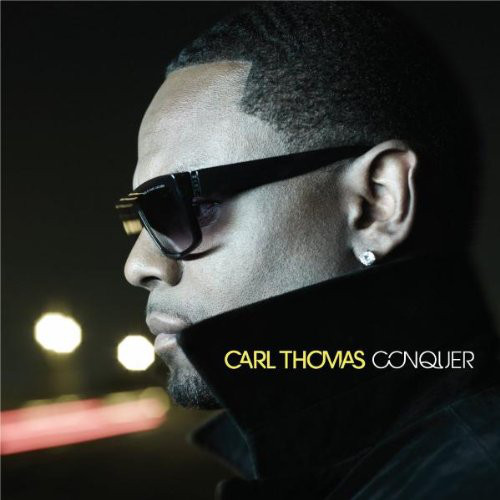 Carl Thomas releases his first single, "Don't Kiss Me" today on iTunes! This undeniable hit is from Carl's forthcoming album, Conquer, available in stores and online December 6, 2011
"I am back," declares celebrated and respected R&B singer Carl Thomas. "Do you know why?" he asks almost rhetorically. His confidence and smooth, hood yet high-post eloquence betray even the thought of you offering any possible guesses. You know he is ready with the answer. "I am back because this game will tell the truth on you. If you are meant for it, it won't allow you to stray away for too long," he says.
Once a protégé of music mogul Sean "Diddy" Combs (who signed Thomas after hearing him sing at an open mic night in New York in the mid-'90s), he was the first heartthrob R&B songster on Bad Boy Entertainment. Thomas is best known for his No. 1 R&B smash "I Wish" from the album Emotional, which debuted at No. 2 on the Billboard R&B Album chart and was a critical and commercial success, selling nearly 2 million copies.
Lothario & Leader
When Thomas crooned "I wish I had never met her," with equal parts pleading and regret, women found his white-wine cool vocals and Marvin-Gaye-meets-Nat-King-Cole sex appeal irresistible, while guys immediately identified with his worldly yet around the way lyricism and spot-on relationship observations. With a solid debut—also yielding the windswept hit single "Summer Rain"—Carl Thomas instantly transformed from a Chicago native son singing for his supper into both an in-demand lothario and the voice of masculine romance for an entire generation. However, it was his indefatigable passion and not industry position or fanfare that beckoned him back to the studio for his new album, Conquer.
Death & A Bad Boy Dips
It has been a long road back home. In 2004, on the eve of the release of his highly anticipated sophomore project, Let's Talk About It, Thomas' brother was murdered in Aurora, Illinois, the Chicago suburb where they grew up. Instead of basking in the glory and glamour of another hit album, a devastated Thomas left his career behind, fled abroad and rendered himself incognito in the States. "Puff fought me on that one. But we were at different points of communication at the time," he says. Thomas also makes it clear about his eventual departure from the iconic hip-hop/R&B label. "My leaving Bad Boy had nothing to do with dollars and cents, points and percentages or contractual issues. But it had everything to do with a shift in personal priorities. I lost my biggest cheerleader, my big brother. The label was the greatest college of the music industry that I ever attended," he admits.
Legs to Stand On
After leaving Bad Boy and still in the grief-stricken process, friend and producer Mike City (Brandy, Usher, Dave Hollister) reached out and invited him to the studio just to record for fun, with the hopes of getting his mind off his troubles. He ended up working with industry legends Jimmy Jam and Terry Lewis as well, and the project resulted in his third album, So Much Better. "That not only gave me legs to stand on again, but it showed me that I was supposed to be standing."
A few years later, he would hear an album by one of his contemporaries that would change his life. "I saw my good brother Maxwell and I listened to his last project before it came out and it reminded me of the integrity that we are supposed to be having as R&B artists. It reminded me of how much of an honor it was to uphold this lineage of Black music. It got the ball rolling for me again."
Battle Ready
"There is nothing more passionate to me than music," he says. Like a soldier confident in his skill for battle, this singer/songwriter is ready to reclaim his territory—a land now saturated by their over-active libidos and Southern sounds as thick and gritty as Georgia's infamous red clay. In stark contrast, Carl Thomas is the epitome of New York '70s and '80s soul: breezy and funky; the absolute perfect storm of class, charisma and cool. He's returned with a new respect for the music and his craft and states, "I know now that I was absolutely built for this."
Ready to Conquer
Conquer, his first album in 4 years, is bursting with lush orchestrations and entrancing chords. The core of Conquer is comparable to Coldplay's soulful sparseness. It's the spirited pop of Maroon Five on a hot Harlem night. It's Sting meets Lamont Dozier. Not wishing to travel the same, traditional R&B course, Thomas has carved his own melodious niche. "As a songwriter, I hear songs and say, 'Man, I wish I had written that record.' There are types of records that have eluded me most of my career. Those are the records that I managed to find for Conquer."
The title track, produced by Andre Harris (formerly of multi-platinum production duo Dre & Vidal), opens with a quiet tempest of strings—the kind you hear during a pivotal scene of a spaghetti Western, where the hero faces danger or, even worse, doom. Carl Thomas has his own particular brand of hero music. "The heroes always seem to lose at the end of most R&B songs. On Conquer, the hero always wins!" he says. On the title track Thomas sings, "Let me save you/I love you so much/Let me conquer you." Amidst all of the dismissive fare disguising itself as romance nowadays, Thomas turns the tables. He's a man sincere and decisive in his declaration of love.
"Round Two," also produced by Harris, finds our hero awakening from a night spent with a beautiful woman, and while the details of their previous passion are murky, he knows he wants it again. "Last night we went hard/look what we did baby/bring your body back around, the time is right now," he coos in his familiar falsetto over a deep and sexy bass thump. The smoldering lead single "Don't Kiss Me," produced by Rico Love (Usher, Beyoncé), is a modern-day ode to the oldie R&B track offering Thomas' signature vocal styling with a reminiscent touch of Al Green and Marvin Gaye for good measure. "It Ain't Fair" reunites Thomas with Emotional collaborator Mario Winans; he continues his grown man and flirts with adulation, singing "She's so perfect/flawless/gorgeous/so much it ain't fair." Winans' magnetic, music works in perfect tandem with Thomas' subtle yet urgent delivery. Thomas' vocals are still his strongest calling card. "Running," an all-or-nothing ultimatum and invite to love for life written and produced by award-winning producer Blac Elvis (Beyonce/Fergie) and "It Is What It Is," a caught-in-the middle, cautionary tale written by hip-hop legend Heavy D and Mike Winans and produced by Rex Rideout (Ledisi), showcase his effortless ability to ride rhythms and skillfully ad-lib all at once.
An Instant Legend
Carl Thomas experienced the type of success with his first song that most artists never touch during their entire careers. "I Wish," with its universal theme of lost love, is now a part of a songwriting canon. It's a feat not lost on the singer. "I came out of the box and entered the Great American Songbook with 'I Wish'. That's what made it so special. There was no working up to it," he says with more awe than conceit. "I remember being in the studio with Jay-Z (who sampled "I Wish" for his hit 2000 song "I Just Wanna Love You (Give It To Me)"  featuring Pharrell) and he told me: 'Whatever happens, remember that your debut album is one of the best foundations an R&B artist could ever ask for.' I know now that when people talk about the album they are really referring to their personal connection to it." He is even more excited about the potential of his newest offerings.
"I Do," written by Thomas and produced by The Internz (Justin Bieber), may well become another classic. Stunningly pared down, this wedding song conveys the groom's point of view as he watches his gorgeous bride walk down the aisle. "I can't wait to call you by your new last name/I can't wait to stare at our future in your eyes/And leave the past behind," he sings.
While he wants to make timeless and genre-pushing music, his mission this time is even grander in scope. "I am supposed to help and inspire someone coming after me. The word "conquer" is an admittance that you've won. With the battles in my life over the past several years, I definitely consider myself victorious."