Bob James & Keiko Matsui to Release New Album "Altair & Vega" on Sept. 27th, 2011 | LISTEN!
by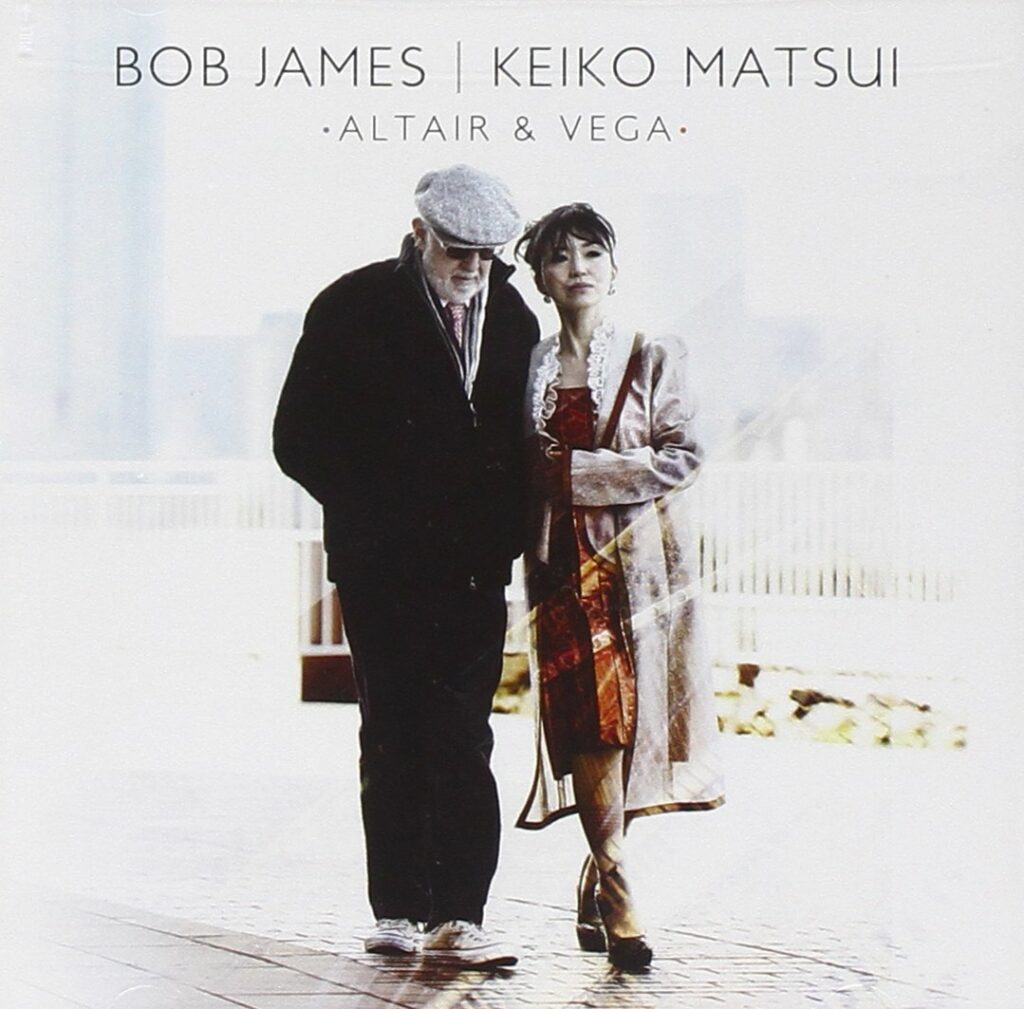 PROLIFIC PIANO DUO, BOB JAMES AND KEIKO MATSUI, PRESENT MODERN TAKE ON FOUR-HANDS PIANO TRADITION WITH,
ALTAIR & VEGA,
AVAILABLE SEPTEMBER 27 ON EONE MUSIC
A prolific composer, Grammy-winner and founding member of the contemporary jazz supergroup Fourplay, pianist Bob James explores the classically influenced side of his immense musicality on Altair & Vega. A duet project recorded with fellow piano virtuoso Keiko Matsui, it's a modern take on the four-hands piano tradition established in the 18th and 19th centuries by the likes of such classical composers as Haydn, Brahms and Schubert. Named for a Japanese folkloric tale about the seventh day of the seventh month (July 7th – an annual celebration known as Tanabata), Altair and Vega are two stars in the galaxy that pass by each other only once a year. "So this kind of rare meeting of these two fictional characters seemed to be a good title because it also described my eventual hookup with Keiko on this project," says James.
Originally this story came from China," adds Matsui. "Later it was combined with Japanese tradition. We write one's wish and prayer on origami (Japanese traditional color paper) and hang it from bambondero grass. We decorate bamboo with origami under the sky for an evening.For us, July 7th is a special day with romantic feeling."
The genesis of this four-hands piano project came 12 years ago when James wrote a piece he titled "Altair & Vega" that he envisioned playing with Matsui. "I didn't really know Keiko at that time," he recalls. "I had only met her once backstage at the Hollywood Bowl but I just thought I would send her this piece of music to see if she might be interested in playing it. I always found it a fun challenge to have two people both sitting at the same piano, working out the choreography and how their hands would go back and forth."
The two ultimately got together in the studio when Matsui was on tour in the States and they recorded "Altair & Vega" as a four-hands piece, which was released in 2001 on James' Dancing on the Water (Warner Bros.). Matsui responded by writing a piece for James called "Ever After," which had appeared on her album Whisper from the Mirror. Shortly after, James and Matsui embarked on a tour together of nine Japanese cities, performing four-hands piano adaptations of their original compositions. "And we had a great time doing it," recalls James. "The audiences loved it, but for a variety of contractual reasons and other problems, we never really got to complete an actual CD project of that music."
Last year, the two performed a four-hands duet in Pittsburgh at the Manchester Craftsmen's Guild, which was documented on video. Two days before that, they had performed a concert in James' hometown, Traverse City, Michigan, and later documented the music in James' home studio. A CD/DVD package of those four-hands piano performances is now available
on the eOne label.
"Most of the music on this project crosses borders," says James. "There are some elements of classical music along with elements of Keiko's and my different influences. So it is partially written and partially improvised."
On Matsui's "Frozen Lake," a piece she wrote at the session after taking a walk on Long Lake by James' home studio, James performs on an Avant Grand digital piano, which gives him a kind of Fender Rhodes effect. His "Divertimento: The Professor & The Student" is a variation on a piece by Haydn that was originally written for piano duet. "He was using it as a method for teaching so he could sit down at the piano and play with students," James explains. "So he would play a phrase and the student would echo it or answer it. And I used that as a jumping off place for me and Keiko. So I play the role of the professor and she plays the part of the student, and those actually became our nicknames during the course of our working together on this project."
Matsui's "Midnight Stone" and "Invisible Wing" are previously recorded pieces given a new four-hands treatment here while the lengthy 13-minute suite, "The Forever Variations," is a four-hands take on Matsui's popular theme "Forever Forever." "That is, for the most part, written," says James. "Although the kind of jazz or funk stuff that happens in the middle is improvised. So there are a couple of places where we take off."
They also turn in an enchanting arrangement of J.S. Bach's "Chorale from Cantata BWV 147"  which the two had played together on tour in Japan. As Matsui explains, "In 2002 I did a Christmas show in Tokyo and I invited Bob as guest. And he brought this beautiful four-hands arrangement of the Bach piece as Christmas present for me. We performed it for first time at that show.I love this arrangement. So beautiful and cool!"
Adds Matsui, "Bob's arrangements are very unique.Sometimes it's like classical music with lots of written parts and sometimes we have lots of freedom to improvise. So mentally and technically, our mind and body are working hard to nail both worlds."
A prolific composer who has recorded in a wide variety of styles going back to 1962's Bold Conceptions, his boppish debut as a leader for the Mercury label, Bob James has amassed an extensive discography that encompasses electronic avant garde (1965's Explosions on ESP), classical (1990's The Scarlatti Dialogues), commercial crossover music (a string of best-selling albums through the '70s and '80s with key collaborators David Sanborn and Earl Klugh) and world music exotica (2006's Angels of Shanghai recorded with a group of Chinese folkloric musicians). A one-time sideman to jazz diva Sarah Vaughan (1965-1968), he is also known for the catchy instrumental theme to the popular late '70s sitcom, Taxi. In 1991, James co-founded the smooth jazz supergroup Fourplay with guitarist Lee Ritenour, bassist Nathan East and drummer Harvey Mason. In 1997, Ritenour left the group and was replaced by Larry Carlton. In 2010, Carlton left and was replaced by guitarist Chuck Loeb.
Keyboard virtuoso Keiko Matsui grew up in Tokyo and took her first piano lesson at the age of five. Her early training focused on classical music and she later became interested in jazz. Major influences during her formative years included Stevie Wonder, Sergei Rachmaninov, Maurice Jarre and Chick Corea. After studying at the Yamaha Music Foundation in Tokyo, she recorded four albums with the new age group Cosmos. Her debut as a leader, 1987's A Drop of Water, was dedicated to those who had died in the Space Shuttle Challenger the year before. She followed with a string of successful contemporary jazz albums, including No Borders, Under Northern Lights, Dream Walk and 1995's chart-topping Sapphire. Her 2002 album, The Ring, was a return to her classical roots while 2004's Wildflower was an evocative project with world music overtones. She followed in 2005 with the smooth jazz offering Walls of Akendora and the orchestral Moyo in 2007. Her most recent recording as a leader, her 22nd, is 2011's The Road…, which features guests Richard Bona, Kirk Whalum and Vinnie Colaiuta.
Bob James and Keiko Matsui
Altair & Vega
eOne Music Release Date: September 27, 2011 
For more information on Bob James, please visit: bobjames.com
For more informatino on Keiko Matsui, please visit: keikomatsui.com
EONE MUSIC · eonemusic.com
DL Media