Walter Beasley | Backatcha! (Coming Oct. 26th. 2010) | LISTEN to Single "Lovely Day"!
by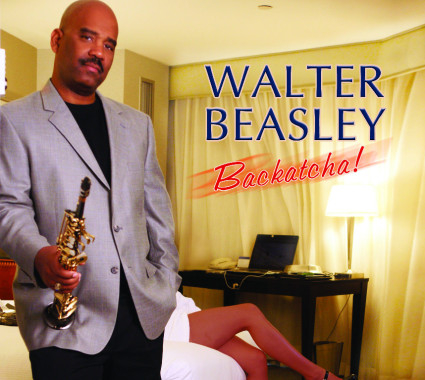 WALTER BEASLEY TOPS HIMSELF WITH BACKATCHA!
BEST-SELLING CONTEMPORARY JAZZ ARTIST TO RELEASE 15TH ALBUM
Many artists start their careers strong, hit a peak and then continue on a consistent, comfortable plateau. Not saxophonist/vocalist Walter Beasley. His recording career started with a bang as one of a handful of jazz artists to have an urban radio hit. Yet, in 2010, more than two decades down the line, he hit #1 on the contemporary jazz radio charts. Now Shanachie Entertainment is releasing on October 26th what may well be Walter Beasley's best album yet–the delightfully varied Backatcha! which brings together many facets of Walter's wide-ranging artistry–rock solid grooves, inventive soloing, an absolutely exquisite tone, an uncanny synthesis of jazz and R&B and, on one track–Bill Withers' "Lovely Day"– an effortlessly seductive vocal. It is a career highlight from a true renaissance man who manages the difficult trick of maintaining simultaneous careers as recording artist, performer, composer and educator, thanks to his long time professorship at the prestigious Berklee School Of Music.
Unusual for an album by a noted jazz instrumentalist, Backatcha!, produced by Chris "Big Dog" Davis and Phil Davis, kicks off with a vocal–the forementioned wonderful version of "Lovely Day," but in the space of the first four songs shows Walter's versatility. The second track, "Expressway," written by producer Chris Davis, is a somewhat edgy slice of contemporary jazz then moves to a languorous, spell-casting interpretation of Isaac Hayes' "Ellie's Theme" and then kicks into a smooth yet fresh version of The Five Stairsteps' classic song "Ooh Child."
Indeed the album shows off Walter's wide-ranging musical sensibility, which encompasses everything from straight-ahead jazz and fusion to R&B and hip-hop. Unlike many jazz musicians, Beasley does not disdain any styles but utilizes any number of genres as a source of inspiration. For instance, he takes rap artist Drake's recent hit "Find Your Love" and turns it into a moody, atmospheric mid-tempo piece. On the other hand, for sheer beauty and lyricism, it would be hard to top Walter's sensitive playing on his original composition "Simply Put."
Read Our Review from George Strand of "Backatcha" by Clicking HERE!
The achievements of Backatcha! is just the latest high point in a career replete with success. Walter Beasley holds the distinction of being the best-selling saxophonist in the world during the past decade and he has sold more than 800,000 albums over his career. He has scored numerous Top Ten Contemporary Jazz hits as well as hitting the R&B charts on several occasions –a rarity for a jazz musician–and being a regular in the Top Twenty of the Billboard Contemporary Jazz chart. But like George Benson, Walter is one of the very few jazz musicians who also sings–well enough to score hit records with his vocals.
He is also widely considered by critics and fans as "the heir to Grover Washington, Jr.'s  throne." Indeed Grover Washington, Jr. sparked Walter's interest in music when, as a nine year-old growing up in El Centro, California, his aunt gave him a record by the sax giant which led Walter to become fascinated with the possibilities of the saxophone. He was also inspired as a singer by the music of legendary R&B singer/songwriter Donny Hathaway. By age 14, Walter was playing saxophone and singing in various bands around California. By his late teens he was studying at the prestigious Berklee School Of Music, where his classmates included future stars Branford Marsalis and Rachelle Ferrell. A sign of his prodigious talent as well as his natural gift for teaching, Walter was, shortly after his graduation at age 22, invited by Berklee to become a teacher there.
By 1987 Walter had scored a recording contract with Mercury Records, and scored an R & B radio hit that year with "I'm So Happy," which kicked off a string of best-selling albums that melded jazz and R&B. He began touring widely, playing major festivals and concert venues as well as performing with such jazz and R & B icons as Brian McKnight, Gerald Albright, Bob James, George Howard, Stephanie Mills, Vanessa Williams and Rachelle Ferrell.  In 1996 Walter was signed by Shanachie Entertainment and continued his successes, especially in the contemporary jazz arena, with such hits as "Comin' At Cha" and "TanTam" as well as his hit vocal of "Do You Wanna Dance."  He later went on to record for the N-Coded and Heads Up labels, scoring a #2 smooth jazz radio hit in 2007 with "Ready For Love" and another top 5 hit in "Oh Yeah."  But even with all this success, Walter has continued to maintain a full-time teaching position at Berklee, rising to the position of Full Professor, because of his commitment to teaching and mentoring up-and-coming musicians.
As musician, recording artist, concert performer, composer, and educator, Walter Beasley has hit some of the highest heights possible. With Backatcha! Walter has matched his previous peaks and delivered what in this era of single-track downloads is a rarity–a true album experience. No doubt "Lovely Day" the first single from Backatcha!, will join Walter's list of hits, but years hence, when the chart numbers are forgotten, Backatcha!  will stand as one of the finest artistic statements to hit the contemporary jazz scene in many years.
Shanachie